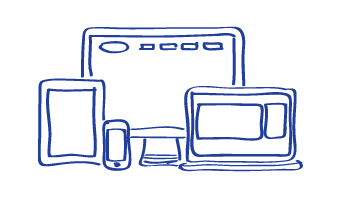 We walk you through a detailed, collaborative discovery process so we clearly understand the needs, objectives and goals. Then we design – backwards. We focus on the user and the desired action (learn, join, donate) and work backwards to the homepage and key messages. Once we've determined the viewers actions we can tell your story, create engaging experiences and provide the tools to easily manage your site and enable your viewers to become more involved with what you offer.
Website design for non profit organizations can be difficult due to limited budgets.
Like all organizations, non profit organizations need websites that can grow with their organization without having to constantly pay for updates or additional content pages. Most website design companies do not account for the fact that non profits rely on funding and need to allocate these funds in the most efficient way possible, without compromising on website design and functionality.
Branding can have a transformative effect on a nonprofit's relationship with its supporters. If a nonprofit has a strong and consistent identity, it will flourish. Donors are more likely to donate again if they feel involved in the nonprofit, while potential supporters who come across your website for the first time will be more likely to return if strong branding successfully transmits your message.
We understand and we can help.
Our non profit website design service is aimed at saving non profit organizations a significant amount off our regular website design and development costs. We don't save you money by cutting corners, we save you money by carefully listening and understanding your website needs, and coming up with a solution that will not only meet your needs, but surpass them. No compromises on functionality, no shortcuts in graphic design. Your non profit organization will get the same quality website design service we offer all our clients.
72% OF ALL CHARITABLE CONTRIBUTIONS ARE MADE BY INDIVIDUALS; FOLLOWED BY FOUNDATIONS AT 15%, BEQUESTS AT 8%, AND CORPORATIONS 5%. (courtesy of nptechforgood.com)